Imagine a world where communication barriers are effortlessly broken, ideas are exchanged seamlessly, and understanding is the norm. This is the transformative power of ChatGPT, an AI language model that is changing the way we interact and collaborate. With its remarkable ability to understand context, generate human-like responses, and assist in various tasks, ChatGPT is revolutionizing communication across industries, cultures, and borders. Gone are the days of misinterpretations, misunderstandings, and lost connections. Get ready to witness a world where ChatGPT opens new avenues of collaboration, fosters global understanding, and ultimately changes the way we communicate.
Introduction
ChatGPT is an advanced language model developed by OpenAI that has the potential to revolutionize communication as we know it. With its ability to generate human-like responses and engage in meaningful conversations, ChatGPT has quickly garnered attention and generated excitement across various industries. In this article, we will explore the concept of ChatGPT, its advantages, and its potential implications in everyday communication, business, social interactions, healthcare, journalism, media, and scientific research. Let's delve into the world of ChatGPT and discover how it is poised to transform our lives.
Understanding ChatGPT
Definition of ChatGPT
ChatGPT, which stands for Chat Generative Pre-trained Transformer, is an artificial intelligence language model powered by deep learning techniques. It combines sophisticated algorithms with vast amounts of data to produce human-like responses in conversational settings. Its primary objective is to generate text that is coherent, relevant, and tailored to user queries in a natural and engaging manner.
History of ChatGPT
The roots of ChatGPT can be traced back to OpenAI's earlier language model, GPT-3 (Generative Pre-trained Transformer 3). GPT-3, released in June 2020, was a breakthrough in natural language processing, showcasing the potential of AI to generate contextually relevant text. Building upon the success of GPT-3, OpenAI focused on expanding the abilities of the language model, leading to the development of ChatGPT.
Development of ChatGPT
The development of ChatGPT involved large-scale training on a diverse range of internet text, enabling it to understand and generate responses to a wide array of topics and queries. OpenAI employed techniques such as reinforcement learning to improve the quality and coherence of generated responses. Iterative feedback and fine-tuning from human reviewers also played a vital role in refining ChatGPT, ensuring that it meets high standards of safety and effectiveness.
Advantages of ChatGPT
Enhanced Communication Abilities
One of the significant advantages of ChatGPT is its ability to engage users in meaningful conversations. It can provide informative responses, answer questions, and even offer support, thereby enhancing communication experiences. Whether it's seeking information or engaging in discussions, ChatGPT's conversational abilities make interactions more engaging and dynamic.
Time and Efficiency
In an era where time is a valuable commodity, ChatGPT can significantly reduce response times and enhance efficiency. With its rapid analysis of queries and ability to generate contextually appropriate responses, ChatGPT streamlines communication processes and minimizes the need for lengthy back-and-forths. This accelerated pace of communication allows individuals and businesses to save valuable time and focus on other important tasks.
Resolving Language Barriers
ChatGPT has the potential to bridge gaps caused by language barriers, facilitating communication between individuals from different linguistic backgrounds. By providing real-time translation and generating responses in multiple languages, ChatGPT enables smoother and more effective communication in global contexts. It opens up doors for collaboration, understanding, and cultural exchange, making the world a more interconnected place.
Influence on Everyday Communication
Improved Customer Service
ChatGPT has the potential to revolutionize customer service interactions by offering personalized and prompt support. Integration of ChatGPT into customer service platforms enables businesses to provide efficient round-the-clock assistance. Whether it's resolving queries, recommending products, or addressing concerns, ChatGPT enhances the customer experience and ensures that customer satisfaction remains a top priority.
Personal Virtual Assistants
ChatGPT can serve as a personal virtual assistant, providing users with personalized recommendations, scheduling appointments, and helping with various day-to-day tasks. By understanding user preferences and generating tailored responses, ChatGPT simplifies and enhances the user's everyday life. From managing to-do lists to organizing events, this virtual assistant becomes an indispensable tool for many.
Educational Support
In the realm of education, ChatGPT can supplement and enhance traditional teaching methods. It can act as an interactive tutor, offering explanations, answering questions, and providing feedback to students. Its vast knowledge base and ability to adapt to individual learning styles make it an invaluable resource for both students and educators. ChatGPT opens up new avenues for self-paced learning, personalized instruction, and access to educational resources.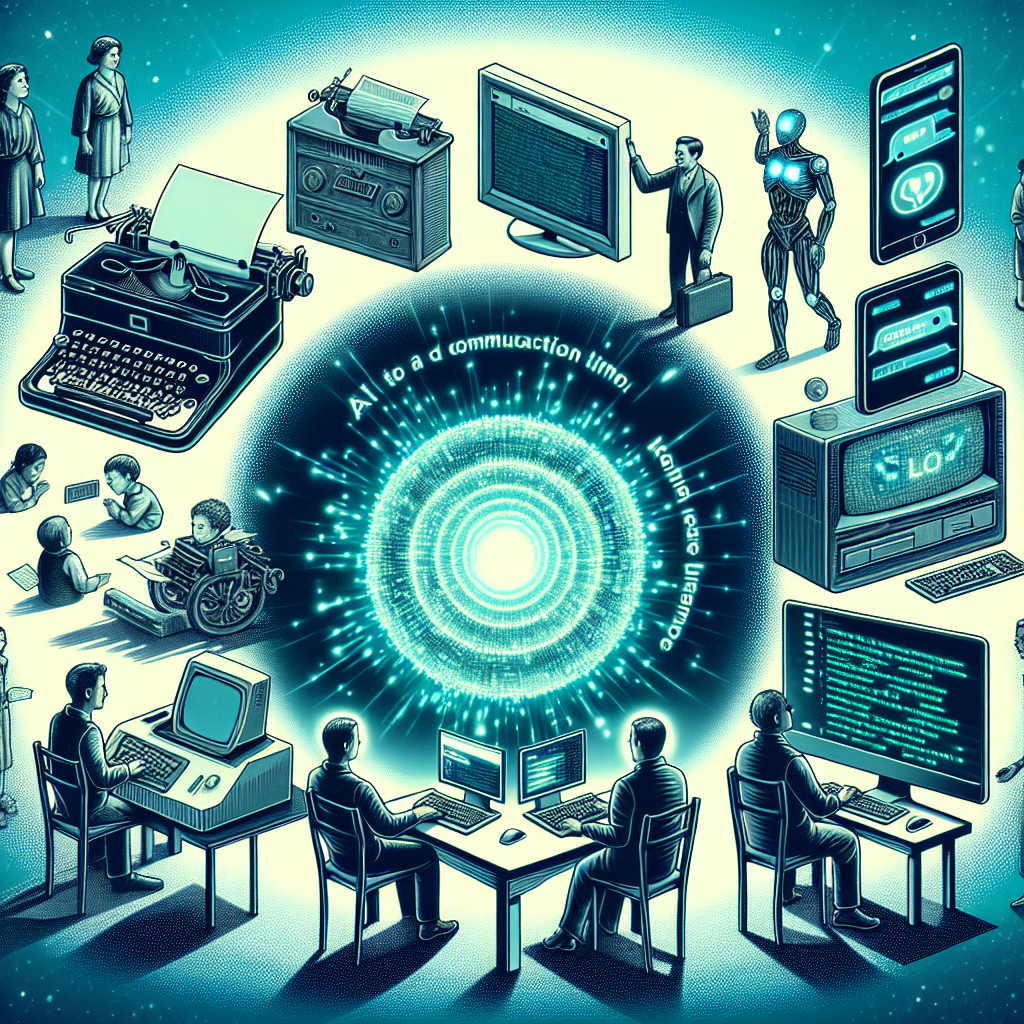 Transforming Business Communication
Automated Chatbots
ChatGPT can power automated chatbots, making customer engagement more efficient and seamless. By leveraging its natural language understanding and generation capabilities, ChatGPT allows businesses to automate responses to frequently asked questions and provide instant support. Automated chatbots not only reduce customer wait times, but they also enable businesses to handle large volumes of queries simultaneously, improving overall productivity.
Seamless Human-Machine Interaction
The integration of ChatGPT into communication platforms facilitates human-machine interaction like never before. By generating human-like responses, ChatGPT creates an experience that feels more natural and familiar. This seamless interaction can lead to increased user engagement, better utilization of services, and ultimately, improved business outcomes.
Streamlined Data Analysis
The data-driven nature of ChatGPT makes it an invaluable tool for businesses looking to analyze customer feedback, gather insights, and make informed decisions. By processing and interpreting large amounts of text data, ChatGPT can identify patterns, sentiment analysis, and provide valuable insights to drive business growth. This streamlined data analysis helps businesses understand customer needs and preferences, enabling them to adapt their strategies accordingly.
Implications for Social Interactions
Enhanced Social Connectivity
ChatGPT has the potential to enhance social connectivity by enabling more meaningful and engaging conversations. It can act as a conversational partner, offering companionship and support to individuals. This technology opens up avenues for new social interactions, particularly for those who may feel isolated or have difficulty connecting with others. By fostering engagement and understanding, ChatGPT can help strengthen social bonds and create a sense of community.
Improved Language Learning
With its ability to generate contextually accurate responses, ChatGPT can serve as a language learning companion. Learners can practice conversational skills, receive feedback, and engage in virtual conversations, thereby enhancing their language proficiency. By simulating real-life conversations, ChatGPT provides an immersive and interactive language learning experience, making the process more enjoyable and effective.
Ethical Considerations
As with any technological advancement, ethical considerations and responsible use of ChatGPT are paramount. Ensuring that ChatGPT adheres to ethical guidelines, such as preventing the generation of harmful or biased content, is crucial. Furthermore, transparency regarding the use of AI and clear delineation between human and AI-generated content are essential to foster trust and maintain integrity in social interactions.
Revolutionizing the Healthcare Sector
Virtual Medical Assistants
ChatGPT can act as a virtual medical assistant, aiding healthcare professionals in providing timely and accurate information to patients. Through its conversational abilities, ChatGPT can offer guidance on symptoms, provide first-aid recommendations, and even assist in triaging patients. This virtual support enhances healthcare delivery, reduces the burden on healthcare professionals, and improves patient outcomes.
Remote Patient Care
In an increasingly digitized world, ChatGPT can enable remote patient care by providing personalized medical advice and guidance. Remote consultations, enabled by ChatGPT, allow patients to access healthcare professionals from the comfort of their homes, resulting in improved accessibility and reduced healthcare costs. This technology paves the way for remote monitoring, preventive care, and telemedicine, ultimately transforming the healthcare landscape.
Medical Research and Analysis
ChatGPT's capabilities extend beyond patient care, benefiting the medical research community as well. By analyzing vast amounts of medical literature and generating insights, ChatGPT can expedite research and aid in the discovery of new treatments, interventions, and medical breakthroughs. Its ability to interpret complex data and identify correlations helps researchers make informed decisions, promoting progress and advancements within the field of medicine.
Impact on Journalism and Media
Automated News Generation
ChatGPT has the potential to revolutionize news generation by automating the process of gathering and reporting information. By analyzing vast data sources and synthesizing relevant content, ChatGPT can generate news articles quickly and efficiently. This automation of news creation allows journalists to focus more on investigative reporting, analysis, and human-interest stories, thereby adding value and diversity to media content.
Fact-Checking and Veracity
With the rise of misinformation and fake news, fact-checking has become crucial in maintaining trust and accuracy in journalism. ChatGPT can assist in this process by quickly cross-referencing information, verifying sources, and identifying potential inaccuracies. By providing journalists with reliable fact-checking support, ChatGPT promotes responsible journalism and helps combat the spread of false information.
Improved User Engagement
In the digital age, user engagement and interaction are paramount for media organizations. ChatGPT can be integrated into media platforms to create interactive and immersive experiences for users. Whether it's personalized news recommendations or engaging conversations about specific topics, ChatGPT enhances user engagement, encourages participation, and captures audience interest in novel ways.
Empowering Scientific Research
Data Analysis and Interpretation
Data analysis plays a vital role in scientific research, and ChatGPT's capabilities make it a valuable asset in this domain. By handling large volumes of research data and generating insights, ChatGPT aids in data interpretation, facilitates hypothesis testing, and assists in drawing conclusions. Its ability to process and analyze complex scientific information expedites the research process, increases efficiency, and unlocks new avenues for scientific exploration.
Enhanced Collaboration
ChatGPT's ability to create collaborative environments can greatly enhance scientific research and collaboration. It can facilitate discussions between researchers from different disciplines, allowing for knowledge sharing and cross-pollination of ideas. The seamless integration of AI-generated responses fosters efficient collaboration, ultimately leading to more significant discoveries and breakthroughs.
Accelerated Discoveries
By augmenting researchers' abilities, ChatGPT accelerates the pace of scientific discoveries. Its ability to suggest alternative research paths, hypothesize potential outcomes, and identify patterns in data enhances researchers' ability to explore uncharted territories. The rapid analysis and generation of insights enable researchers to make informed decisions and drive scientific progress at an unprecedented rate.
Conclusion
ChatGPT, with its remarkable abilities and potential, is set to revolutionize communication across various domains. Whether in everyday interactions, business communication, social settings, healthcare, journalism, or scientific research, ChatGPT offers numerous advantages that can transform the way we communicate and interact with technology. However, it is crucial to ensure responsible use, ethical considerations, and maintaining a balance between human and AI-generated content. As we embrace the remarkable capabilities of ChatGPT, let us approach its implementation with mindfulness and harness its potential to create a more connected and informed world.